Hardwood Flooring in Twin Falls, ID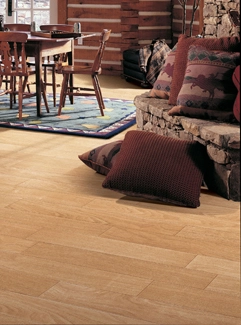 Add elegance to your home with luxurious hardwood flooring in Twin Falls, ID at Beam's Flooring America. This classic flooring material has remained a favorite among homeowners for hundreds of years due to its traditional beauty and proven durability. Our experienced team will help you choose the perfect hardwood flooring for your home based on your unique style, budget, and functional needs. At Beam's Flooring America, we are proud to offer each customer both solid and engineered wood flooring products with unmatched installation services. Visit our Twin Falls, ID showroom to view our products and discuss your project with our team!
Types of Hardwood Flooring: Engineered vs. Solid Hardwood
Let us show you the two main choices you have in wood floors—eco-friendly engineered hardwood flooring and solid wood. The one you choose should meet your lifestyle requirements and design preferences. Lifestyle considerations include whether you have a family and pets, the room you plan to install this flooring in, and your flooring budget. Design preferences refer to the species of wood you like best, as well as what you want in grain, finish, and gloss. Talk to our professionals about your decorating plans and they can come up with recommendations on flooring that meets your needs.
Engineered Hardwood Flooring -

Engineered wood flooring is manufactured by bonding together multiple layers of high-density fiberboard and finished with a gorgeous surface layer veneer of your favorite wood species. This tough and long-lasting flooring is resistant to moisture, allowing you to install it in areas with high moisture levels, such as bathrooms, kitchens, mud rooms, laundry rooms, and the basement. This means you don't have to worry about your family dragging in snow and mud during chilly Idaho winters.

Solid Hardwood Flooring -

Make an investment you can be proud of by choosing solid hardwood flooring. Replacing outdated floors can not only take your interior design to the next level, but you can even improve the market value of your home. Solid wood can be refinished when the flooring looks worn and tired. In fact, solid wood planks can be refinished several times so that these floors last for up to 100 years. This is due to its composition of thick planks of solid wood that are milled from a single hardwood board. Solid wood flooring gives your home an air of elegance and timeless charm.
The Benefits of Hardwood Floors
Whether you are looking for wood floors that are rustic and weathered, or glossy and traditional, we have both your design and functional needs covered. By carrying a large selection of hardwood floors, we are able to serve the unique flooring needs of countless Twin Falls locals. We offer a vast selection of quality flooring brands including Mohawk, Downs, Bruce, Floorcraft, Armstrong, Shaw, Mannington, and more!
Our knowledgeable in-store associates take the time to ask important questions and become familiar with the expectations of your household. The following are some of the common benefits that make hardwood flooring a great choice for your home:
Long Lasting With Proper Care

Enhances Interior Designs

Boosts Property Value

Improves Indoor Air Quality by Eliminating Allergens

Can be Refinished at a Later Date to Revitalize Planks

Withstands Common Forms of Household Wear & Tear

Available in a Variety of Species, Grains, Stains, & Finishes
Affordable Hardwood Flooring Options
When you're ready to start shopping for new and improved hardwood, you won't need to sacrifice style for savings. Turn to us and take advantage of high-end wood services and selections at a price you can afford.
Our hardwood floor prices are reasonable for homeowners with budgets of every size. By considering exactly what you are willing to pay, we can narrow down our selection to the options you can afford. Not only do we offer sensible rates on the collections we carry, but we also offer reasonable rates on hardwood flooring installation.
How to Care for Hardwood Flooring
The key to your hardwood flooring's longevity is proper care and maintenance. Our experts will guide you through the maintenance process to achieve long-lasting luster! If you have any questions about how to care for your floors, our experts are happy to help. Always remember to ask a flooring professional before using any harsh cleaners. For best results, follow these simple steps to care for your hardwood flooring:
Sweep or vacuum regularly

Wipe up spills with a soft cloth and a recommended floor cleaner

Maintain the air's moisture levels with a humidifier or dehumidifier

Add area rugs in spaces with high exposure to the sun

Prevent scratches by trimming your pet's nails, avoiding high-heeled shoes, and adding felt pads to moveable furniture
Hardwood Flooring Installation You Can Trust
Proper installation is essential to ensure the performance and appearance of wood planks. Beam's Flooring America is proud to back our hardwood flooring products with outstanding installation services by seasoned experts. Not only is our installation quick and efficient, but it is also affordable and performed with meticulous attention to detail. According to our Ultimate Confidence Guarantee, if you experience any installation-related flooring problems, we'll fix or replace the floors at no extra cost to you. Leave the installation to us and you can start enjoying updated hardwood sooner than you ever thought possible!

Are you ready to upgrade your home with high-end hardwood flooring? Contact us today to discuss your project with our team! We proudly serve Twin Falls, ID, and the surrounding communities including Mountain Home, Chalice, Sun Valley, and Stanley, ID.