Tile Flooring in Twin Falls, ID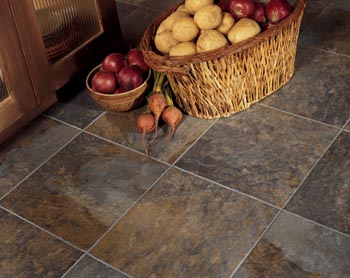 Experience the perfect balance between beauty and function by choosing tile flooring at Beams Flooring America. Shopping for new tile floors doesn't have to be a challenge. Our local flooring store has a larger selection than big-box stores! Turn to us and make the selection process easy and enjoyable. Our in-store associates go above and beyond to make every experience at our location completely worry-free. By taking the time to ask the important questions, we become familiar with your unique expectations. No matter what you have in mind regarding to appearance, performance, or price, you can depend on us to deliver tile flooring that fulfills every desire.

Whether you wish to upgrade with tile in a single room or throughout the entire home, you can find stunning choices among the vast selection at Beams Flooring America. Visit our Twin Falls, ID, showroom today to discuss your tile project with our helpful team!
Types of Tile at Our Local Flooring Store
Built to last, our durable tile flooring is designed to withstand the most common forms of damage experienced in the home. The natural characteristics of tile guarantee that this material will deliver the look and longevity you expect from your new floor covering. Our showroom carries various tile types, so you can choose the one that best fits the needs and style of your home. Our flooring experts will tell you about the advantages of each tile material that we carry, including:
Ceramic Tile
Ceramic tile brings a refined, elegant look that lends its beauty to your furnishings. Made of kiln-fired clay, this tile is strong, water-resistant, and durable. It carries the lowest price tag of our tile selections and offers easy installation because it is a softer, easier-to-cut tile.
Porcelain Tile
For a thoroughly modern look that complements every décor, we recommend porcelain tile. Made of clay, quartz, and feldspar and fired in a kiln, porcelain is tough. You can count on it to stand up to heavy foot traffic and remain appealing for many years.
Stone Tile
Natural stone tile flooring holds distinctive beauty. This type of tile is heavy and dense, enabling it to stand up to the wear and tear of daily life. With its earthy tones ranging from green to blue and gray, slate tile offers a rustic appeal. Because natural stone tile is made from slabs mined from the ground, each piece is uniquely beautiful.
Wood-Look Tile
If you've dreamed of hardwood's aesthetic, but dreaded the worry of warping due to moisture, our wood-look tile is the perfect solution. Offering ceramic's many functional benefits, you can achieve a variety of wood looks in any room of your home.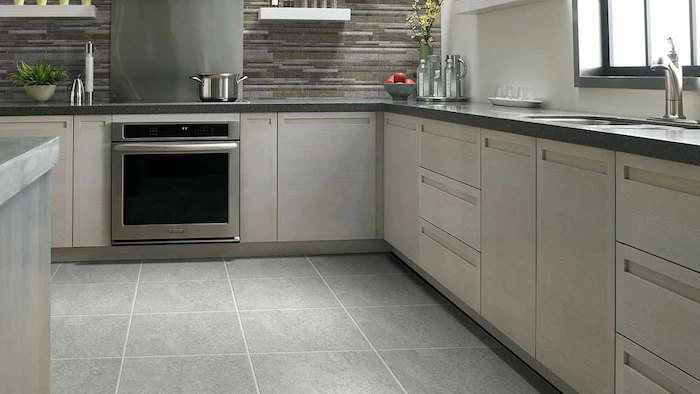 Why Choose Tile Floors for Your Home?
Enhance your interiors with tile that's perfectly suited for your décor, furniture, and overall aesthetic. Not only does tile provide the level of style you desire, but it also provides the functionality your household requires. Whether you want a waterproof natural stone for your bathroom, or a gorgeous ceramic kitchen backsplash, we offer only the most reliable tile brands, including Spotlight, Floorcraft, Mohawk, Shaw, Marazzi, and more! The following are just some of the benefits that make tile an ideal choice for any home:
Resists scratches, dents, & cracks

Repels stains, spills, & water damage

Long lifespan with minimal maintenance

Ideal for wet areas like the kitchen & bathroom

Available in a variety of hues, textures, & more

Easy to clean by regularly sweeping & mopping

Hypo-allergenic surface that improves indoor air quality

Compatible with radiant heated floors, adding warmth in chilly Idaho winters.
How to Care for Tile Flooring
Tile's ease of maintenance is perfect for high-moisture areas like kitchens, bathrooms, and basements. If you're in need of some oops-proof flooring that lasts, especially in a home with active kids and pets, we have the perfect tile options that are simple to clean and long-lasting. Our flooring specialists will guide you through proper tile care and maintenance at our Twin Falls showroom. Follow these basic steps to keep your tile looking brand new for years to come:
Sweep or vacuum regularly

Wipe up any spills with a damp cloth

Remove grease and oil buildup by mopping with a manufacturer-recommended floor cleaner
Schluter Tile Setting Materials: Ensuring Reliable & Durable Tile Installations
When it comes to tile flooring installations, using high-quality setting materials is essential for long-term durability and reliability. Schluter, a renowned manufacturer in the industry, offers a range of tile-setting materials designed to ensure successful installations. Schluter's tile setting materials are formulated to provide a strong bond between the tile and the substrate, offering flexibility and resistance to cracking. This creates a solid foundation for the tiles, ensuring they stay securely in place.
To assist those looking to master the proper use of their tile setting materials, we offer Schluter classes. These classes provide valuable knowledge and hands-on training, ensuring that users can achieve optimal results with Schluter products. Stop by our showroom today to learn more about our Schluter products and classes.
Expert Tile Flooring Installation That Lasts
Our commitment to your satisfaction doesn't end when you make a purchase. We continue to provide you with exceptional service even after you walk away with the tile product of your dreams. Ensure the investment continues to impress far into the future with professional tile installation services. Our team boasts years of skilled expertise for a swift and precise installation that will wow you and your guests. Sooner than you ever thought possible, you can start enjoying new and improved tile in the kitchen, bathroom, living room, and beyond. We remain so confident in the workmanship of our installers that we back our efforts with our unparalleled Ultimate Confidence Guarantee. If you aren't 100% satisfied with your floors after 30 days of the initial installation, contact us and we'll replace them with a similar product for free. Ready to learn more about tile remodeling with Beams Flooring America?

Contact us today to start your tile renovation project! We proudly serve Twin Falls, ID, and the surrounding areas.